Bartlett Heating and Air Conditioning Company Since 1978
Our heating and air conditioning company in Bartlett has been offering quality comfort for families since 1978. We started with one truck and one owner, and we have effectively expanded to providing residential and commercial HVAC services with a team of highly trained technicians. Our main focus is providing superior services that you can rely on.
OUR MISSION STATEMENT
Never being satisfied with average we strive for excellence and perfection is the norm not something we just hope for. We want to protect our environment and give back to our community as much as possible.
WHAT SEPARATES US?
Our team focuses on providing accurate quotes for repairs and replacements. Every quote is completed by a certified technicians that truly understands heating and air conditioning systems. We never use salesmen in this process because they usually do not understand the work that goes into a replacement or repair. This ends up helping our customers save costs since we quote everything accurately.
---
We will never use another company for future heating and cooling issues. Bartlett heating and Air Conditioning operated with the utmost professionalism and understood our need to protect our new wood floors. I was very concerned when our furnace went out that the tracking of dirt and debris would be all over our house. Also that our new wood floors would get ruined by tradesmen. Vince assured me they would take care of our house like it was their own. The guys put tarps down everywhere and asked me again and again if there was anything else they should cover up. I was amazed at how the install of my furnace and air conditioner went in without a hitch. Thanks again.
Phil Meagher

We got three quotes on a high efficient furnace then Bartlett Heating & Air Conditioning walked through our door. Wow these guys don't mess around. I told them what I wanted they explained to me the pros and cons of all the furnaces not ever pushing one or the other. Then they told me they had a price match guarantee which made me feel more comfortable. Once I got the price I called them up and told them they were 900.00 dollars lower then the next contractor I asked them if they missed something. They said no sir we did not we give you are best price the first time. Thanks Bartlett Heating and Air you guys are the best.
Jake Pedy

Bartlett Heating And Air Conditioning can't be beat they are always fair and honest. We have had other contractors out in the past that say one thing and they charge and do another. It is no smoke and mirrors with these guys if they say it one thing they fix it and that is it. Thanks for being honest contractors it's nice to have a trustworthy contractor.
Art Palenscar

We were not easy customers in fact we were downright demanding, but Bartlett Heating And Air Conditioning stuck with us and delivered on time and on budget. Thanks guys!
Shanon Egger
WHAT IS OUR SERVICE AREA?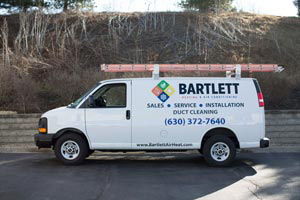 The Bartlett in our name doesn't mean that we only serve the great city of Bartlett, Illinois, we are proud to serve the surrounding suburbs such as Carol Stream, Wayne, and we have a strong focus on offering our heating and air conditioning services in St. Charles. With an abundance of older and larger homes in the St. Charles area, coming up with the perfect solutions for indoor comfort, heating and cooling is a challenge that we accept wholeheartedly. From St. Charles to West Chicago, we are your residential HVAC service solution.
Authorized Carrier and Lennox Dealer for Replacement Products
In order to maintain knowledge and on-going customer satisfaction, our company is both a Carrier and Lennox authorized dealer for replacement HVAC products. Not only are we authorized to provide you with the best brand replacement, our team also receives training from the two best HVAC manufacturers in the world. We fully understand how to repair or replace any Carrier and Lennox product, as well as, any other brand.