Elite® Series XC16 Air Conditioner
---
High-efficiency, two-stage cooling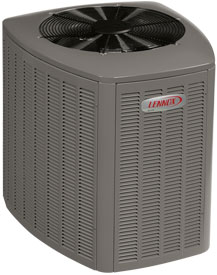 Features
Overview
Here are some of the top features of the XC16:
Efficiency rating of up to 17.20 SEER can save you hundreds of dollars each year*, compared to a standard air conditioner.
ENERGY STAR® qualified which means it meets or exceeds EPA guidelines for energy efficiency.
Two-stage scroll compressor operates at low stage most of the time for quieter, more efficient performance.
Precision-balanced direct-drive fan delivers ultra-quiet operation with a patent-pending fan design.
Quiet Operation
Home Comfort
Energy Efficiency
Environmentally Responsible
Reliable Performance
Publications
Certifications