Dave Lennox Signature® Collection SLP98V Variable-Capacity Gas Furnace
---
The quietest high-efficiency furnace you can buy
1
!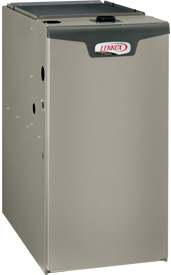 Features
Overview
Here are some of the top features of the SLP98V:
Efficiency rating of up to 98.2% AFUE can save you over $800 dollars each year*, compared to standard furnaces.
ENERGY STAR® qualified which means the furnace meets or exceeds U.S. federal guidelines for energy efficiency.

This product has been designated as one of the Most Efficient ENERGY STAR qualified products in 2014. Products that are recognized as the Most Efficient of ENERGY STAR in 2014 prevent greenhouse gas emissions by meeting rigorous energy efficiency performance levels set by the U.S. Environmental Protection Agency.
Precise Comfort™ technology adjusts fan speed, heat and airflow capacity in increments as small as 1% for the ultimate in temperature control.
Variable-capacity operation works much like the cruise control system of high-performance automobiles, automatically making adjustments as necessary to allow maximum fuel efficiency.
Variable-speed motor provides a quiet and consistent flow of air for an ideal balance of temperature and humidity in your home.
SilentComfort™ technology combines advanced engineering with sound-absorbing materials to deliver the ultimate in quiet performance
Quiet Operation
The quietest high-efficiency furnace you can buy1!
SilentComfort™ technology combines advanced engineering with sound-absorbing materials to deliver the ultimate in quiet performance
Variable speed blower motor—provides a quiet, consistent flow of air for enhanced comfort, efficiency and humidity control
Fully insulated cabinet—patented noise-reducing construction further minimizes operating sound to an industry-leading low level
Home Comfort
Precise Comfort™ technology—automatically adjusts fan speed, heat and airflow capacity in increments as small as 1% for the ultimate in temperature control
AirFlex™ technology—offers custom settings which can be selected to meet each home's specific year-round comfort requirements
Zoning-compatible design—works with Lennox' iHarmony® zoning system to deliver the right amount of comfort for up to four zones
Variable-capacity operation—goes beyond typical low and high two-stage operation, varying output from 35% to 100%
Energy Efficiency
The quietest high-efficiency furnace you can buy1!
Efficiency rating of up to 98.2% AFUE —can save you over $800 dollars each year*, compared to standard furnaces
ENERGY STAR® qualified—meets or exceeds EPA guidelines for energy efficiency

This product has been designated as one of the Most Efficient ENERGY STAR qualified products in 2014. Products that are recognized as the 

Most Efficient of ENERGY STAR in 2014

 prevent greenhouse gas emissions by meeting rigorous energy efficiency performance levels set by the U.S. Environmental Protection Agency.

Self-calibrating variable speed inducer—automatically adjusts to match the system requirements, ensuring cleaner combustion and efficient operation
Stainless Steel secondary heat exchanger—has a robust, time-tested design that captures waste heat, allowing the furnace to achieve industry-leading efficiency levels
Dual-fuel capability—can be combined with an electric heat pump to enhance comfort and fuel efficiency by alternating between electric and gas heat, optimizing energy use and minimizing heating costs
iComfort®-enabled technology—allows the furnace, when installed with the easy-to-use programmable iComfort Wi-Fi® thermostat, to exchange information and make adjustments as needed to optimize performance and efficiency**
Reliable Performance
Duralok Plus™ heat exchanger—made of patented ArmorTuf™ steel to ensure high reliability and efficiency
SureLight® igniter—silicone nitride construction ensures long product life and reliable operation
SureLight control board (icomfort™ compatiable)—controls all furnace operations to ensure high reliability and efficiency. Direct-readout diagnostics for simple, quick troubleshooting
Limited Lifetime Warranty on heat exchanger
10-Year Limited Warranty on covered components
Publications
Certifications